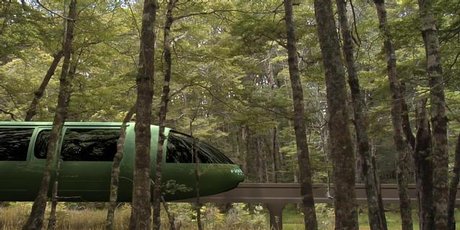 The Fiordland Link Experience would include a 41km monorail trip through the Snowden Forest to a terminus in Fiordland National Park. Photo / Infinity Investment Group
The first proposal is the $150 million Fiordland Link Experience which would include a 41km monorail trip through conservation land that takes in Te Wahipounamu (South West New Zealand) World Heritage Area. The monorail would link tourists with catamaran and all-terrain vehicle trips.
The second is an 11km bus tunnel called the Milford Dart, costing up to $170 million Those behind it say it would cut travel time for a one-way trip from five hours to two for some of the half-million tourists who visit Milford Sound every year.
Read this article on
NZ Herald
.
This is surely looking ahead and would definitely make Queenstown a supreme tourist destination in the world.
However, I can't help but look at low-hanging fruits that will make Queenstown more friendly to tourists.
1. WIFI - make the entire area free wifi! The amount of social media sharing - photos etc will EXPLODE! Everyone can easily share their news and photos of Queenstown in the WORLD. The cost of communication and internet connectivity in NZ and in Queenstown, specifically, is at least 2 times it costs in Japan and other first world countries.
2. Add free public tourist hubs!
a. Enhance the library. Many Asian tourists would love to visit Queenstown library... Recently I have seen a lot of tourists checking out the Queenstown library asking if they can borrow books - the STERN answer - "How long have you been here?"..."You need $25 etc". And yes you guessed it right, the Queenstown library, with the city's booming tourism revenues, does not even offer FREE wifi. SHOCKING!
3. I am getting tired of hearing about the overly-marketed Shotover River tours. There's so many other FREE activities that people do not talk about! How many people talk about the Dart Track in Glenorchy? With Queenstowns 500,000 visitors per year... where are they going? The Skyline? Anyone already has a great view from essentially anywhere in Queenstown! It takes smart marketing by the local council to promote the free and natural tourist spots Queenstown has to offer. Believe me, you need at least 1 year here to really enjoy and savor what the city can offer. 1 year might not even be enough as the entire scene changes season per season...
My view from my bedroom
Every morning, when the sun is up, it seems to be calling me to enjoy the outdoors. Every morning, when I look at the view from my window, despite any worries I have, I tend to think, what a beautiful life!
This is what Queenstown truly offers...
That's me - morning walk - in front of our apartment
NZ Property Guide
Auckland New Zealand
Gisborne NZ
Rotorua NZ
Taranaki NZ
Waikato NZ
Hawkes Bay NZ
Tauranga NZ
Wanganui
Wellington City
Christchurch NZ
Queenstown NZ
Dunedin NZ